MARC GUNN, THE CELTFATHER
Irish drinking songs and science fiction. Nowhere else but from the bizarre imagination of Marc Gunn would these elements be so neatly integrated. Nicknamed "The Celtfather", Marc Gunn is a champion of the Celtic MP3. He has given away over 10,000,000 MP3s since he began his Celtic music career in 1999.
Marc Gunn is an award-winning acoustic folk musician rooted in the American Celtic song tradition–-Celtic music, the Traditional and the Twisted. His musical instrument of choice-the autoharp-continues to surprise musical veterans and fans a like for it's unique sound and spirited energy.
Buy music and merch in my Mage Records store on Bandcamp.
Marc Gunn's Albums
Make your holiday Shiny with Christmas songs for Browncoats. You'll enjoy four songs inspired by Joss Whedon's cancelled Sci Fi Western hit series, Firefly. This is pure Browncoat fun. Laugh along with us.
Tracks: Firefly Jingle Bells, The Hero of Christmas, Grandma Got Devoured By A Reaver, 12 Days of Firefly Christmas
Browncoats rise again with a new album of music inspired by Joss Whedon's cancelled Sci Fi Western hit series. What started as an EP for Browncoats in the Gunn Runners Club, grew into a full fledged CD for Firefly fans.
Tracks: As Long As I'm Flyin', Blue Sun, Browncoat Baby, Good to Have Jayne On Your Side, Hero of Canton, Raise a Glass to Flyin', Reavers Lullaby, Sail the Sky, The Long Arm, Wear the Brown With Pride, There's a Bug in Cabin Six, She Said Her Name Was Saffron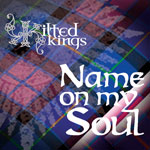 Become the Hero of an Epic adventure of powerful Celtic World music. Sing. Dance. Smile. Because we wear kilts, and You are royalty! Kilted Kings features Marc Gunn on autoharp and vocals and Randy Wothke on percussion.
Tracks:Slainte Mhaith, Purple Flower, Blue Sun, Wild Mountain Thyme, Marionette Jig / Spinner's Reel, Ride On, Prettiest Hobbit, Cloghden More, Flower of Scotland, Name On My Soul
Pirates vs. Dragons tells the true stories of how I was shanghaied by pirates to write an album of dragon hunting songs by the notorious Captain Black Jack Murphy. The CD combines rousing sea shanties about pirates being pirates with songs about the majesty of dragons, and the journal details the privations I suffered. There's a little something for both sides here–and I bet you find a new favorite or two.
Tracks: Come and Be a Pirate, Pirates & Dragons, There's a Storm a-Comin', PSA: Pirate Service Announcement, Hey-Ho, to Be a Pirate, The Ballad of Jenny Malloy, The Shining Lady Jean, Do Pirates Taste Better, Our Pirate Crew of Ten, The Dragon Hoard, The Truth About Dragons, Keep Them Soaring, Didja Ever See a Dragon Fly, How Do We Steal From A Mighty Dragon, The Wreck of the Bold Irish Stout, A Pirate's Confession, Save the Dragons Foundation (SaveDragon.com)
Celebrate St Patrick's Day with your little leprechauns. Your kids will love this collection of fun and funny St. Patrick's Day songs. It's Celtic music for kids and the whole family!
Tracks: I'll Tell My Ma, Irish Lilting, Red-Haired Boy Lilting, Happily Ever After, Gypsy Rover, Rising of the Moon, The Sick Note, Lord of the Pounce, I Love Crunching Nuts, Loch Lomond, Wherever I May Roam, The Mermaid Song, The Leprechaun, When Irish Eyes Are Smiling, Rattlin' Bog
Do you send Christmas? Do you love Celtic music? Then share the gift of music with Celtic Christmas Greeting by Marc Gunn. Next time you go looking for Celtic Christmas CDs, you may find as much trouble as Gunn had before he released his album. There were plenty of albums that were Celtic OR Christmas, but they were rarely both. The Celtfather pulls in some great Celtic musicians and some outstanding songwriting to provide a truly CELTIC CHRISTMAS sound.
Tracks: Let's Have a Celtic Christmas, God Rest Ye Merry, Gentlemen, Celtic Christmas Elf, Christmas in Scotland, Christmas in Killarney, The Scottish King of Christmas, Jingle Bells, Frosty the Irish Snowman, Snowfall, Silent Night, Christmas in the Shire
In one hand, a pint of Mudder's Milk, in the other a bottle of Romulan Ale. Sing and laugh along with this Celtic Geek musical gem. Drinking can be found throughout the universe from Earth to Praxis, from Canton to Skaro. Come on, you know Davros was drinking something when he came up with the Daleks. In fact, I think The Doctor was there drinking with him. Sci Fi Drinking Songs are fun songs designed to make us laugh, cry, smile, and above all SING!
Tracks: Pan-Galactic Gargle Blaster, Doctor of Gallifrey, Bring Me Home, Boys, Reavers, Malcolm, Reavers, Isn't It Grand Boys to Be Walking Undead, Jedi Drinking Song Prequel, Those Characters Died, The Smial or the Tree, Romulan Ale, La La La Geeks, Free Brains, Browncoats Keep Flyin', Jedi's Dargle, A Boy and His Frog, Come Take a Trip on my Airship
The Irish diaspora of the 19th century sent millions of Irish families to America. Settling in New York, Boston and New Orleans, the immigrants brought Irish music with them. Combining with other folk traditions and sustained by Irish cultural organizations across the country, Irish and Celtic music thrives in America. Two original songs are based on the construction of the New Basin Canal in New Orleans, where something between 5,000 and 20,000 Irish workers dies of yellow fever.
Tracks: A Stor Mo Chroi, Star of the County Down, Gypsy Rover, Men of New Basin Canal, Bridget's Prayer, Ais Vis Lo Lop, Black Velvet Band, Between the Devil and the Deep Blue Sea, Streets of Laredo/Bard of Armagh, Whiskey, You're the Devil, Who's Gonna Shoe Your Pretty Little Foot, Mrs. McGraw, Leaving of Liverpool, Johnny, I Hardly Knew Ye.
The Celtfather fuses traditional Scottish songs with Celtic American fun while raising a flag for Scottish freedom!
Marc Gunn compiles some of the greatest Scottish songs ever written into one incredible album that topped the World Music charts on iTunes when it was released on St. Andrew's Day. It' fun Celtic music for all the Scottish ex-patriots around the world.
Tracks: Come Ye By Atholl, MacPherson's Farewell, Mingulay Boat Song, I'm a Rover, Seldom Sober, Ye Jacobites By Name, Scots Wha Hae, Loch Tay Boat Song, Barnyards of Delgaty, Jock Stuart, Ye Canna Shove Yer Granny, A Man's A Man For A' That, Green Grow the Rashes, Mari Mac, There Are No Pubs in Kirkintilloch, Skye Boat Song, Mairi's Wedding, Flower of Scotland.
Ever wake up on St. Patrick's Day in a panic because you have no Irish music? Well, here's a ready-made solution! "Every Day is Not St. Patrick's Day" adds to Marc Gunn's considerable collection of Celtic music made accessible in any number of ways. First of all, it's a great listen. Even if you never explore the music beyond that, you'll be satisfied. But Marc has made the lyrics to and chords for all these great songs available on his Irish Song Lyrics website. Was the #5 most-popular World music album on iTunes on January, 17 2013.
Tracks: Whiskey in the Jar, Dicey Riley, Tae the Begging, Kilkelly Ireland, Rising of the Moon, Nancy Whiskey, Rocky Road to Dublin, Old Fenian Gun, The Alcoholic, Minstrel Boy, Danny Boy, Drunken Sailor, Wild Colonial Boy, Big Strong Man, An Irish Lullaby, Henry Martin, May Morning Dew, A Drop of Nelson's Blood, Arthur McBride, Old Dun Cow.
There you are at the Sign of the Prancing Pony in Bree, when you hear the sounds of rollicking song inside. You push open the heavy oak door to see small hobbits dancing on the bar, spilling beer and singing at the top of their lungs. Little did you know that there are scores of great hobbit drinking songs. Marc Gunn, The Celtfather, met up with Daisy Brambleburr of Bindbale Wood (aka Rie Sheridan Rose) in Hobbiton to discuss and share the drinking songs of the hobbits. He came back with a plethora of great songs and tunes to share in his newest album.
Tracks: A Working in the Garden, Scouring the Shire, Don't Go Drinking With Hobbits, Elves, The Ring of Hope, Prancing Pony, Said the Horse to the Hobbit, Let's Get Drunk Tonite, Everybody Needs a Drinking Song, Rose, We'll Have a Pint of Stout, The Shire Polkas, A Well-Dressed Hobbit, Hobbit Birthday Song, Bilbo's Farewell, Wildflowers of Party Field, Cat and Rat, Do You Fancy a Drink?, The Hobbit Journey Home, Raise a Glass in Parting.
Marc Gunn joins forces with the quintessential Browncoat band, his good friends Bedlam Bards. Recorded live at science fiction conventions and shindigs, Firefly Drinking Songs presents music inspired by Firefly and Serenity–the perfect sound for hoisting a mug of mudder's milk!
Tracks: Monahan's Mudder's Milk, Somnabulant Intro, Hush, Now Little Citizen, Bring Me Home, Boys, Kaylee, O Susannah, Fruity Oaty Bars, Browncoats Keep Flyin', It's Good to Have Jayne on Your Side, A Drop of Reever Blood, Whiskey in the Jar, Libertas Sumptus Intro, Freedom Costs, Hero of Canton.
Do you love kilts? Celtic music? Do you love to laugh? You're in luck! Enjoy Marc Gunn's Kilted Celtic comedy music for the playfully demented Celtic music fan. Get ready to guffaw with a healthy dose of laughter, the best medicine for any Celtic music lover.
Buy the Celtic T-Shirt and get an album download for free.
Tracks: Kilted For Her Pleasure, A Drop of Vulcan Blood, Maid Went to the Mill, Close Your Eyes, Beer, Beer, Beer, To the Begging He Will Go, The True History of No Pants Day, Jock Stuart, A Man Who Wears a Kilt Every Day, St. Patrick Never Drank, Call of the Bodice, The Mower, The Widow and the Devil, Kitty Cat, The Sailboat Armada, Monahan's Mudder's Milk.
A soulful reflection of Celtic and folk bluesy music with themes and melodies both new and old that spans over ten years of Marc Gunn's career. Masterfully recorded by Rich Brotherton, one of the Celtic music world's finest producers.
Tracks: The Bridge, Between the Devil and the Deep Blue Sea, Black Velvet Band, The Furball Set: Dobby Goes to Dublin/The Cat in the Corner/The Can of Salmon, Peggy Gordon, Auld Lang Syne, Liquid Sunshine, No Songs Left to Sing, A Lil Bit O'Love, Wild Mountain Thyme, Healy Pass, Gypsy Rover.
It's Irish. A joyful juxtaposition of the morbid and the comic that celebrates murder ballads, the Black Death and life through death. Experience an album of New Orleans Irish music and drinking songs with an album cover by famed Celtic artist Ingrid Houwers.
Happy Songs of Death (Death's Autoharp Cover)
Same CD, but different album cover by Nikki O'Shea, the author of the Bards Comic, featuring Marc Gunn and Brobdingnagian Bards. Limited quantities available.
Tracks: Isn't It Grand, Boys?, Won't You Come with Me?, Twa Corbies, Clementine Blues, Johnny Jump Up, Jug of Punch, Red, Red and Black, Whiskey, You're the Devil, High Jeannie High, Rosin the Bow, Foggy Dew, Waxies Dargle, I'll Drink from Dusk 'Til Dawn.
CDBaby Editor's Pick — The "Weird Al" of Irish music returns with a live version of his top-selling CDs "Irish Drinking Songs for Cat Lovers".
Tracks: Intro, Catnipped Kitty, Jasper Tabby Kitty Cat-y, Danny Boy, Beer, Beer, Beer, Intro to The Sparrow, The Sparrow, Lord of the Pounce, River's Jig, When Kitty Eyes Are Smiling, Roll the Old Cat Chariot Along, Old Dun Cow, Intro to Kaylee and Firefly, the TV Show, Kaylee, Kitty Martin, The Bridge, Johnny Jump Up.
All the original Irish drinking songs that were parodied on "Irish Drinking Songs for Cat Lovers". It's newly-released with a brand new cover to celebrate Marc's newly restarted Celtic music career.
Tracks: Finnegan's Wake, Black Velvet Band, When Irish Eyes Are Smiling, The Moonshiner, I'll Tell My Ma, Patriot Game, Black Is the Colour, Bonnie Ship the Diamond, Gypsy Rover, Wild Rover, Barnyards of Delgaty, Fiddler's Green, Lord of the Dance.
Take a breath. Listen. A pathway to fairy fields and drifting clouds, to magical realms and deepest dreams. Marc Gunn's very first album of instrumental autoharp music. It's soothing beautiful music. Heart's Ease is a gateway to peace of mind.
Tracks: Stardust Serenade, Heart's Ease, She Vanished in the Mist, Songwind, The Mage of Mirth, Desire, Amber Wednesday, Fairy Tale Waltz, Summer's End, Wildflowers of Party Field, Return to Lonely Mountain, Song of Assisi, Phoenix Tears, Of Twilight Shores.
Hopeful romantic love songs for all walks of life! I believe in love. It's an essential part of human existence. There are so many great aspects to it, and not all of them are romantic: love, love lost, marriage, infatuation, longing, lust, frustration, love for animals, places, and things. It is not all cut and dry. There is no perfection, except perhaps in accepting the imperfection of our own understanding.
Tracks: Silhouette of Longing Love, The Gosling Reborn, When She Held Me In Her Arms, Another Lonely Night, A Faint Heart, Froggie Went A-Courtin', The Hobbit Journey Home, Star of the County Down, Tiziano Gunn, They Call Me Crazy, Here's to the Dreamers, Marry for the Heart.
The fantastic follow-up to the highly successful cats and Celtic music themed CDs. Irish songs rewritten about cats and beautifully produced.
Tracks: What Shall We Do With a Catnipped Kitty, Molly Malone, the Cat's Perspective/Planxty Hewlett, Kitty at the Door, Danny Boy, To Catch a Cat, Big Strong Cat (My Puddy Tat, Sylvester), Cuddles McGish, When the Dairy Farm Caught Fire, Kitty's Rambles/Dowd's 9 Lives/Jenny's Chickens, The Old Woman and Her Cat (Dundee Cat), Kitty Martin, Harry Potter and the Rising of the Moon, Orange Kitten's Mew, Whiskers in the Jar.
The name says it all. Going for Brogue is a mix of Irish songs and sea shanties sung with an Irish brogue and attitude.
Tracks: A Drop of Nelson's Blood, The Holy Ground, The Night that Paddy Murphy Died, Isn't It Grand, Boys?, Botany Bay, Old Fenian Gun, The Mermaid Song, Johnny, I Hardly Knew Ye, Irish Rover, The Humours of Whiskey, Whisky in the Jar, Fiddler's Green, Haul Away Joe, All For Me Grog, Bonnie Ship the Diamond, The Foggy Dew, Rattlin' Bog, Whiskey, Johnny!, Mingulay Boat Song.
Folk music with delusions of grandeur. Fun Sci Fi and fantasy folk music performed acoustically on the autoharp with a ton of character. Features songs based on Star Wars, Bugs Bunny, Harry Potter, Firefly, Lord of the Rings, and even one of Marc's first publicly shared songs
Tracks: Don't Go Drinking with Hobbits, A Rabbit for Halloween, Samwise Gamgee, The Virgin Diet (How to Have Fun Losing Weight), How Do You Tell a Woman You're in Love with Her?, Pleasant Peasant Pheasant Plucking Song, She Said Her Name Was Saffron (Our Mrs. Reynolds), Monkeys Over Mongolia, Lusty Young Sith, For the Setting Sun, If I Were a Horse, The Last Chicken in Dublin, Pig's Song, I Saved the Planet Earth, The Nazgul Song, Gollum Blues, My Father Was a Werewolf.
The original CD that struck the imagination of cat lovers everywhere. It combines Irish drinking songs with my love of cats.
Tracks: Wild Kitty, A Cat Named Rover, The Mining Ship the Red Dwarf, When Kitty Eyes Are Smiling, Lord of the Pounce, I'll Tell My Cat, The Cat Came Back… The Cat's Perspective, Black Is the Color (of My Cat's Fur), Cats Chasing Butterflies, The Demented Cat Game, Black Kitty Paw, Catnipping Green, The Old Grey Cat, Furagone's Wake, Jasper Tabby Kitty Cat-y.
Marc's very first acoustic solo CD. This album features a beautiful mix of romantic ballads on autoharp and a capella. It's an intimate look at Celtic music through the eyes of one of it's strongest supporters.
Tracks: The Bridge, The Lady of Setliff Manor, Killiecrankie, The Parting Glass, My Titania, Wake You, My Sweet Queen, The Leprechaun (You're No Irish Laddie!), The Barrel Song, Lanigan's Ball, Middle Earth Bragging Song, Happy Birthday from Ireland, Kyara, Elven Mistress of Whispers, My Love Is Like a Red, Red Rose, Buttercup's Lament (Princess Bride).
DVDs
Wild Mountain Thyme (DVD)
STOP and picture what life will be like watching Marc Gunn perform in front of an audience of a hundred people. The rapt attention. The cheers. A room singing together. Obviously you can see how Wild Mountain Thyme will bring greater joy into your life.
For the first time anywhere, you can experience Marc Gunn's live performance through a professional audio and video recording of one of captivating live performances. Recorded live in 2012 and 2013 at the California Autoharp Gathering. Gunn hypnotized his audience with a brilliant collection of traditional and not-so-traditional songs. The excitement and energy he created landed him a headlining slot for his 2013 performance.
Tracks from 2012 Performance
Flower of Scotland
Kilted For Her Pleasure
Between the Devil and the Deep Blue Sea
We'll Have a Pint
Catnipped Kitty
Wild Mountain Thyme
The Bridge
King of the Road
Tracks from 2013 Performance
I'll Tell My Ma
Men of New Basin Canal
Freedom Costs
Leaving of Liverpool
The Widow and the Devil
Don't Go Drinking With Hobbits
Wild Mountain Thyme
Kilkelly, Ireland
Flower of Scotland
Black Is the Color
Witch Doctor

More Celtic Music Links:
Cat Song Lyrics • Celtic Songs & Folk Music Downloads • Irish Songs & Lyrics • Cat Lovers Podcast • Celtic Music Magazine • Celtic Christmas Music CDs • Marc Gunn's CDs