Raucous side of Celtic music. Experience pub songs and sea shanties with a pirate intentions. Beware! This CD contains explicit lyrics, not family-friendly. Arrrg!
Captain Black Jack Murphy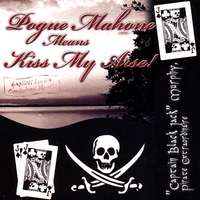 Wha'? Biography. Feckin' bastards!
No wait. That's me? Haha!
I'm "Captain Black Jack" Murphy, Pirate Extraordinaire, of the pirate ship IRISH STOUT. I've plundered the seven seas for twelve years now and I'm tired. The Royal Navy is getting awfully bitchy. So instead of pirating ships, I decided to record an album of sea shanties and drinking songs and pirate music. It's a much more respectable living considering the Major Record Labels are stealing more from musicians than we pirates have EVER done!
Yes! I am a firm believer in Piracy! Listen to my PSA and support the fine art of piracy starting with my music. But buy the Feckin' album first. It is imperative that you help us musicians who put our blood, sweat, and tears in each album.
Okay, the blood was from my shipmates. All I did was sing and play a little drum. That's one of the luxuries of being a CAPTAIN after all. You direct the idiot sailors beneath you. Ah tis a fine life. Treat 'em right and don't call 'em idiots too much to their face and you won't face a mutiny… again… Okay, it happened once… twice, okay four times, but it wasn't my fault. I WAS DRUNK! I thought those wenches WERE mermaids… How was I to know they wouldn't lead me to the treasure…
But I Learned my Lesson. That's the point I want to make.
The IRISH STOUT has treated me well. And I've treated her like the Queen she is! I make sure the men swab the decks keep the head in top shape. It's important. With all those waves Up and Down and Up and Down, when you're aiming, you're likely to miss. That's why I encourage me lads to just piss over the side of the ship. And NOT down the head. Save that for the real work.
But that's not the point I was getting at. The important thing of pirating is pirate as much as you can. Booty is grand but sometimes ye have to do That much more.
That's one of many reasons why I recorded an album of music. And soon I will start on my lecture tour of universities to educate students on the Fine Art of Piracy… and maybe learn a few tricks from those students. Damn! Those kids are ahead of the game!
Oh! And the CD is great! Buy the Feckin' thing and ten for your mates. Arrrrgh!
Tracks
Botany Bay
Haul Away Joe
The Humours of Whiskey
A Drop of Nelson's Blood (Roll the Golden Chariot Along)
PSA – Talk Like a Pirate Day
Irish Rover
Whiskey
Johnny
Won't You Come With Me?
Happy Birthday to You in Your Birthday Suit
PSA – Support Piracy!
The Blarney Stone
Mingulay Boat Song