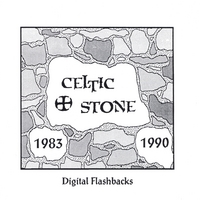 Legendary Celtic music from the Renaissance Festival circuit in the 1980s. High-energy combination of traditional Celtic and American music with rock and jazz influences.
CELTIC STONE was a band popluar at many southern & mid-western Rennaisance Festivals during the 1980's (though they played a number of folk clubs, Irish Pubs, & folk festivals, as well). The band (and its recordings) featured an eclectic mix of folk and rock influences. The early recordings tended more towards traditional Celtic fused with '60's British rock (and was renown for accoustic versions of rock classics, like "Thick as a Brick"). After 1985 the band moved more towards new grass/gypsy jazz/jam band influences. The band featured a variety of line-ups, with David Clauss on hammered dulcimer the common thread. The instrumentation also featured guitar, fiddle, flute, and vocals. Robyn Hilliard and Todd Menton were the featured vocalists on the earlier recordings, with David Roe featured on the later recordings. Other notable members were Simon Spaulding (fiddle), Malcom Smith (fiddle), Bob Bielefeld (flute), and Mitch Lawer (guitar & mandolin).
The CD is a retropective look at the band's career, with an emphasis on songs & tunes popular at Rennaissance festivals. It features tracks from the bands five main recordings, as well as two tunes not on previous recordings and two new versions of old favorites. A nice way to experience the band's changing line-up over the years. Tends to feature the band's accoustic side, though there are a couple of rockers. There are 16 tracks (about 60 min) with 1/3 instrumentals.